OSCEOLA ROD AND GUN members special Wisconsin and Minnesota
Concealed Carry Course
Date: Saturday, Oct 24, 2020
For students taking the class to renew their Minnesota carry permit, shooting range time will be 8 AM to 9 AM.
Classroom instruction for both renewal and first time carry permit students will begin at 9 AM.
Shooting range time for first time carry permit students will be immediately following the classroom instruction.
Fee: $80.00
50% of the class registration fee will be donated to the Osceola Rod and Gun Club.
Class Description:
This course will cover responsible firearms ownership. With our step by step training, we give you the comfort and confidence to handle a firearm. We will cover what you can and can't do and where you can and can't go with a concealed weapon.  Also covered is the importance of situational awareness and conflict avoidance, the use of cover versus concealment, reasonable force, deadly force, the Force Continuum, and duty to retreat.  All of which are the foundation for personal safety and security.
This Wisconsin & Minnesota Conceal Carry Permit Course includes classroom instruction and range time. Students must demonstrate proficiency in safely handling and operating their handgun, demonstrate how to load & unload their firearm and pass a written examination.  To obtain their Minnesota carry permit, each student must complete a shooting qualification course.  This course also meets the requirements needed to renew your Minnesota carry permit.
If you have questions, please call Pat Cahill: 715-491-6952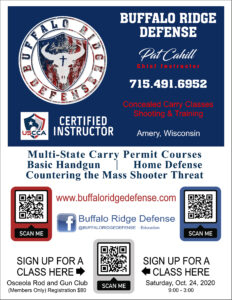 click on poster for larger image