FYI – the Clubhouse will be open both
Sunday December 26th and January 2nd
Have a Safe, Happy Holidays!

4th Annual Banquet is upon us!
2/12/2022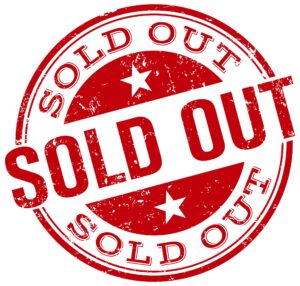 10/28/21 update from the committee.
   The Osceola Rod and Gun Club banquet is only 4 months away!  Thank you for sending in registrations early and we are 35% filled already!
   This year we have added an additional option for a reserved table.   Call Dan or Steve for more information on this option if you are interested.
   We will also have a unique number for each person to write on your tickets, so you don't have to look for the winning ticket number for a match.
   If you sign up for the banquet prior to 1/17, we will use $1 of your banquet general admission ticket (Wisconsin Gaming Rule) to put in a drawing for a Springfield Armory M1A Loaded 308 Rifle and a True Velocity Collectors Edition box of Ammo.  MSRP for this prize is $2,160.  Please remember we sold out the banquet very early last year so get in your registration ASAP to ensure you have a seat and a chance to win the M1A!
We will continue to update the list of prizes for the banquet, but here is what we have so far!
Guns for the banquet so far…
Kimber Custom II Two-Tone 1911 45 ACP
Ruger LCP Lite Rack 22 LR
Ruger 57 5.7x28mm
Bond Arms Rowdy 45LC/410
Smith and Wesson M&P M2.0 Compact 40
Springfield Armory Hellcat Micro OPS 9mm
Glock 34 Gen3 9mm
Glock 40 Gen4 MOS 10mm
Sig Sauer P320 M17 9mm
Savage Muddy Girl 6.5 Creedmoor
Winchester XPR True Timber Strata 300 Win Mag
CZ-USA 457 Varmint 22 LR
Mossberg Patriot Predator 22-250
Henry Big Boy 44 Mag
JP Sauer 100 Classic 270 Win
Kimber 84M Classic 6.5 Creedmoor
Bergara B-14 Ridge 30-06
Springfield Armory Saint Victor 5.56/223
Radical Firearms 7.5" 5.56 NATO Pistol with 7" RPR and SBA3
AR15 Custom Build 300 Blackout
Springfield Armory M1A 308
Tristar Viper G2 Sporting Youth 20ga
Winchester SXP Upland Field 12ga
Black Aces Distressed Bronze Bullpup 12ga
Benelli Super Nova Realtree Max-5 12ga
Mossberg 940 JM PRO 12ga
CZ-USA Bobwhite G2 Side by Side 12ga
Beretta Silver Pigeon I OU 12ga
SKB Hybrid System 300 Field 20ga
Mathews Vertix Bow
CZ-USA 612 Field Pump 12ga
S&W SD40VE 40 S&W
Canik TP9DA 9mm
Henry Golden Boy 22LR
TC Strike Muzzle Loader 50cal
Other prizes:
Bug-A-Salt Shred-er Kit
Generac GP 1700W 120V Gas Inverter Generator
Algoma Salmon Fishing
St Croix Legend Extreme XFS610MLXF
Otterbox Cooler
DeWalt 20V Max XR Impact Driver & Hammer Drill
Fitbit 4 Limited Edition + Fitbit Linked Scale
Wisconsin Sports Package
Black Lab Print
Tipton Ultra Gun Vise w/Wheeler Reticle Level
Reinhart Big Jim Archery Target
Ready Wise Meat Freeze Dried Food
Work Sharp Precision Knife Sharpener
Flextone Turkey Decoys
iHUNT Predator Call
Browning Strike Force Gen5 Trail Camera
5 Star Gear First Aid Trauma Kit
2nd Amendment Whiskey Barrel Lid
Thanks in advance and look forward to seeing you there on February 12th!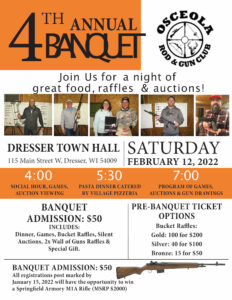 Download Flier below
4th Annual Banquet Flier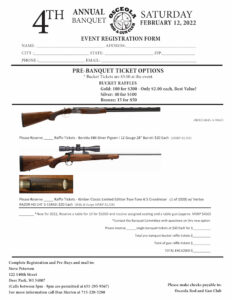 Download Registration Form below
4th Annual Banquet Registration Form

Our club is moving to new Fall/Winter Hours!
The clubhouse will be open for Trap Shooting on Monday and Friday from 5 – 9 (or earlier if there are no shooters) and Sunday noon to 5 pm.

ALL New memberships and Renewals are now done online under "Membership"
To facilitate quicker checkout times when paying at the clubhouse, please remember to bring your confirmation emails!

Osceola Rod & Gun Club 22 Rimfire
Bench-Rest League
See more info and our new page here!
We will be starting this league in June 2021!   If you have questions call Jerry Pedersen, Club VP at 715-494-0212 (cell).
     22 Rimfire Benchrest is a fun, challenging and technical sport shot with scoped or iron sight 22 rimfire rifles. As the name implies, competitors fire from a bench with the front of their rifle supported either by a bipod or a front rest/bag (shooters must support the rear of the rifle themselves – no bag or monopod).  Each week league participants will shoot a target containing 25 individual targets at 50 yards. 
     To make competition as fair as possible and to include as many shooters as possible, the league will encompass a wide range of equipment and age divisions. Opportunities to compete will be provided for everyone from the novice to the expert.  This is a club member league and mostly for fun and skills development . . . shooters do not need to shoot every week – they may shoot a few weeks just for fun and skill development.  Our first year we will award as many trophies as possible in five different equipment classes and four age divisions. 
Age divisions will be: Youth (13 and younger), Teen (14 – 17), Adult (18-65), Super Senior (66 and older).
There are three rifle classes: Unlimited, Sporter and Factory. All rifles must be chambered for 22 rimfire. Sporter & Factory classes will also contain 2  iron-site divisions.  Bolt and Semiautomatic rifles will be legal in all classes. 

2021 Summer Archery Flyer
Starts May 5th through August 15th with no league June 30th – July 4th
(Click flyer to see larger version)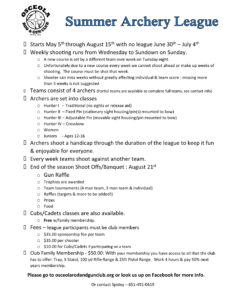 see archery rules and guidelines on the Archery Page here.

2021 Trap League Details
At the trap league meeting the following was established for the 2021 trap league season:
1. It will be a 16 week season. Shooting score rounds will start Friday April 30th.
2. Two rounds must be shot by May 11th and the 3rd round by May 18th. No shooting back after May 18th.
3. You can shoot three weeks ahead.
4. The 16th week ends August 17th and shoot off rounds must be shot by August 24h.
Team rosters are due May 18th.
Congratulations to Grace Stewart for winning the Kevin Cassellius Memorial Scholarship!
Sponsored by: Polk County Tavern League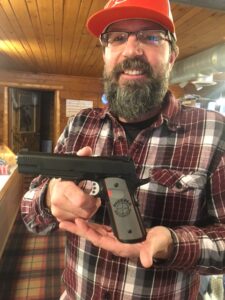 Club member Jeff Krueger started trap shooting three years ago, after not shooting since in his early twenties. Jeff fell in love with the sport and decided he wanted to get his family involved with him. He got his son-in-law Ryan Lillie to join the club and try  trap shooting for the first time. Ryan also fell in love with the sport and truly enjoys it. Jeff then decided it was time to introduce his  Grandson Liam Lillie to the sport. Liam is 8 years old and shoots a .410 single barrel shotgun. Liam started about two months ago and has already scored an 11 out of 25. Not bad for a youth shooting a .410. Liam also loves the sport and is now hooked like his Dad and Grandpa. It should be noted that the youngest age you may shoot at the club is eight and adult supervision on the line is a must at all times. All three love the sport and the Gun Club. Jeff and Ryan want to thank you all for welcoming Liam to the club!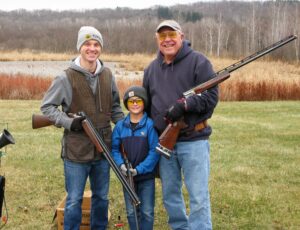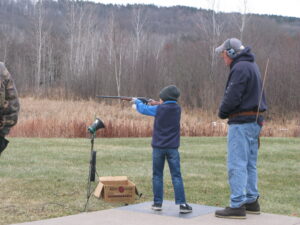 Obituary for Harlan Leslie "Les" Oberg  (Cub Member)
Harlan Leslie Oberg lost his battle with Agent Orange, Prostate cancer and Covid-19 on January 22, 2021. He was born on March 20, 1946 to Irene and Harlan Oberg. He graduated from Robbinsdale High School in 1964, enlisting in the Navy shortly after. On June 11, 1966 he married Vicky Anderson, the love of his life. Together they had two boys, Brian and Curt. They raised their family in Spring Lake Park, MN where he joined the local Fire Department. Les worked in 3 different hospitals as an Operating Engineer becoming the states youngest Licensed Boiler Operator. In 1980 Travelers Insurance Company recruited him as a Loss Control Specialist inspecting large facilities. He worked for several large insurance companies until his retirement.

Shortly before retirement they moved to Cushing, WI where they became active in the local trap shooting clubs. During the past several years he helped coach 2 High School Trap Leagues. He loved working with the kids and they loved him back. He was hoping to teach his Grandson Kolton the sport. 

Awesome Carry/Conceal Class done by
Buffalo Ridge Defense
Instructor/Owner Pat Cahill – who is an active OR&GC member – donating 50% of proceeds back to our club!  It was $720 – Thankyou Pat !!
We'll have to do that again.

Thank you to all the competitors and volunteers for another great Triathlon!
3rd Place: Jeff Johnson & Steve Peterson.
2nd Place: Seth Stanton & Travis Olson.
1st Place: Hunter Shira & Jared Lubbers. Congratulations on back to back wins!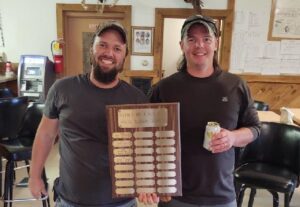 Note – from a our Range Safety Officers
Thanx to all those members who have attended Sunday Safety Briefings or invested their time to get their "Certificate of Completion" at our website online!  
A couple observations.  
 Almost everyone who we see shooting at the pistol or rifle range are abiding by our most important rule – firearms empty and actions open while shooters are down range.  Remember you can not touch a gun or ammo on the shooting benches during this time.  It is OK to load magazines back at the safety tables.
Introducing yourself to other members at the line is your best "safety habit".  Get the conversation going as you arrive and you will have successfully created an easy way to safety check intentions with each other.
The other day I saw some unsafe firearms handling at the line.  Knowing about our safety concerns –  it was easy to ask the shooters if they had attended a "safety briefing" this year?  Both young men said no . . . leading me to the next question – have you renewed your memberships yet this year?   They said they had never been members . . . the upper gate is always open on Sundays and they had been coming for years.  A strange unexpected answer to my safety concerns.  I said they could go up to the club house and pay a day fee or buy a membership or they would have to leave.  They had no idea this was a membership club.  Please – as card carrying members – fell free to use your safety awareness and concerns to help keep our club safe.

Congratulations to Hahns Huebsch on receiving the 2020 Osceola Rod and Gun Club Scholarship!

It's time to renew your memberships!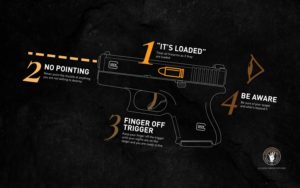 Safety briefings  occur on Sundays and continue through May as the majority of memberships are being renewed.  These briefings will be at 2 p.m.  Watch the club calendar for other Briefing opportunities.  Range officers will make an attempt to attend both archery and trap league nights to help make the briefings convenient.